1) Stair Lifts:
http://www.daytonaelevator.com/products%20StrairLift.htm
-Handling stairs in your home is difficult or unsafe, let a us help you save you the trouble and pain of struggling up and down. With its smooth rack and pinion drive and battery power, the stair lift can effortlessly take you up and down either a straight or curved stairway, even during a power outage.its slim rail and carriage saves room on the steps to allow others to access past the stair lift.
2) Stair Climbing Cane:
http://doesitreallywork.org/stair-climbing-cane-review
-Stair Climbing Cane is a specially designed cane that bends at an angle to provide support while going up stairs.Able to extend up to 37 inches, and support up to 300 pounds. They also say that you'll be able to walk on any surface with no problem, such as grass, which can be a bit of a challenge with all of its uneven levels. It's also able to help you navigate over bricks and cobblestone, which can tend to trip you up if you're not careful.It can make it over sand and snow, two surfaces that can cause problems for even the most able bodied of us.
3) Companion Bird:
http://craziestgadgets.com/2011/01/25/stair-climbing-helper-bird/
-Goes on top of railings and helps the elderly or less mobile people to climb the stairs. Useful for people who have a hard time gripping things (perhaps due to arthritis). The bird would enable people to climb the stairs without having to readjust their grip- they could grip the bird once and slide it along with them all the way up the stairs.
4) Honda's body weight support system:
http://visualizingjapan.blogspot.sg/2010_05_01_archive.html
-'walking assist device'. This device takes the majority of the weight the person uses away. It can help people to walk and climb stairs.
5) User-Friendly Convertible Staircase: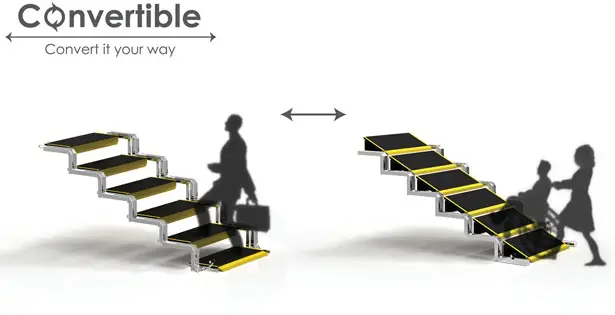 http://www.mdolla.com/2012/12/convertible-user-friendly-staircase-by.html
-
Convertible
is a conceptual user-friendly staircase which can be transformed into a ramp. It's an ingenious idea to help elderly people or anyone who has walking difficulties to climb the stairs easily and conveniently, also for those who need to carry heavy items, they can use a cart or trolley without a problem. This
staircase concept
aims to minimize accidental falls and injuries.
Convertible user-friendly staircase
incorporates a simple linkage mechanism which only requires minimal effort to operate. You can mount it directly to your existing stairs, it doesn't need special construction of a new ramp. It's been designed for easy installation with minimal maintenance and also low construction cost.
6) EZ Step:
http://www.ez-step.com/
8)
Knee-Aid:
http://www.edvantage.com.sg/content/theres-spring-grannys-step
Knee-Aid works on the same principle as a knee guard. However, a torsion spring is attached to the part of the device that is behind the knee. This helps propel the user's foot forward when climbing the stairs.
The device, weighing less than 500g, also has a thigh and calf support, both made of aluminium but padded to prevent discomfort.
9)Stair Steady:
http://www.dailymail.co.uk/sciencetech/article-1227637/StairSteady-Teenage-girl-stairlift-millions-stumbling-handrail-idea-GCSE-project.html
StairSteady to help those with walking difficulties climb the stairs. A metal bar attached to a metal stair rail. It allows those with limited mobility to use the stairs without worrying that they will fall. Those using the StairSteady push the bar along the rail to help them balance when they want go up and down the stairs. The bar uses friction to lock itself in place so users can pull themselves up to the next step. It will lock in place if
the user falls or stumbles. When not in use, the handle can be pushed flat against the wall.
10)Electric Walking-Assist Car :
http://www.ceatec.com/2012/en/news/webmagazine_detail.html?mag_vol=025
The MEMS Gyrosensor detects any changes in the angle of assist car perpendicular to the ground, and then delivers and controls power to the wheels to ensure stability. The incline sensor measures the degree of any slope uphill or downhill. For an uphill walk, the assist car leans into the slope to make walking easier. When walking downhill, the assist car leans towards the walker whilst applying brakes to the wheels, to provide a stable support. These sensors make it possible for the Electric Walking-Assist Car to deliver support to the walker without asking the user to expend any effort.